Blame it on winter and my ensuing propensity to hibernate, but lately I've become hooked on several certain "reality" shows, so much so that I've spent an entire Sunday in my pajamas without having left my apartment once. So much so that my DVR flashes a warning message when I select a new show to record saying, "You already have 2 other programs selected to record at that time" (or something to that effect). But can you blame me? What do you expect when VH1 and Bravo air such scintillating programming about washed-up B- and C-list celebrities teetering on the brink of OD-ing and
a score of wannabe drag queen superstars ripping off their wigs as they lipsynch for their poor, Godforsaken lives
? What's a girl to do, hit the STOP button? I think not.
Usually I'm not much of a TV watcher. I've been known to go for a whole week without switching on the boob tube and over an entire YEAR without cable television. But when you put a sexy doctor like Drew Pinsky in the same room with *the* former Madam of Hollywood (who now sports one hell of a banged-up collagen injection lip job - just try and take your eyes off of it), toss in one majorly in-denial Dennis Rodman and add a dash of a certain 70s show child star who recently admitted to having a consensual sexual relationship with her father, you have
a recipe for couch glue
. And how am I expected to resist the ruthless but always-on-target advice of
Millionaire Matchmaker
's Patti Stanger, with whom I have developed an undeniable love-hate relationship? Speaking of, I would love to see her on
Celebrity Death Match
(remember that show?) with
Tough Love
's Steve Ward. Sorry Steve, but with as much as I've learned from you, my money's on Patti.
To top it off, Oprah had to go and do an episode on the new CBS reality drama
Undercover Boss
, which of course meant I had to schedule a regular Sunday night taping. I think CEOs of all major American corporations should be required by federal law to appear on that program. I'm convinced such a regulation would put an end to unethical corporate behavior and maybe even bolster our country's economy. Not to mention eliminate the need for eye makeup remover. Talk about a tearjerker!
But I think I'm doing a pretty darn good job of not getting sucked in to the reprise of
Orange County's "real" housewives
. All I need is about 5 minutes of that show to remind me how fortunate I am to not have been raised by a bleach-blonde, silicone-infused fake woman.
(No offense, RuPaul.)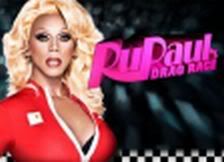 You better WORK!